The Free-to-Move Bladder Liner
Our redesigned bladder liners now provide even more reliable leak protection and absorbency. Chlorine, fragrance and dye-free, and made with an ultra-absorbent 100% organic cotton topsheet–so you can laugh so hard you pee a little, comfortably.
Ordering Made Easy
Organic and natural bladder care, delivered to your door.
One-Time Buy
Choose what you need and check out. No subscription required.
Subscribe & Save
Sign up for a subscription and get your goods delivered at a discount. Cancel anytime.
Make Your Impact
With every purchase you make, Cora provides period products and body literacy resources to people who might otherwise go without.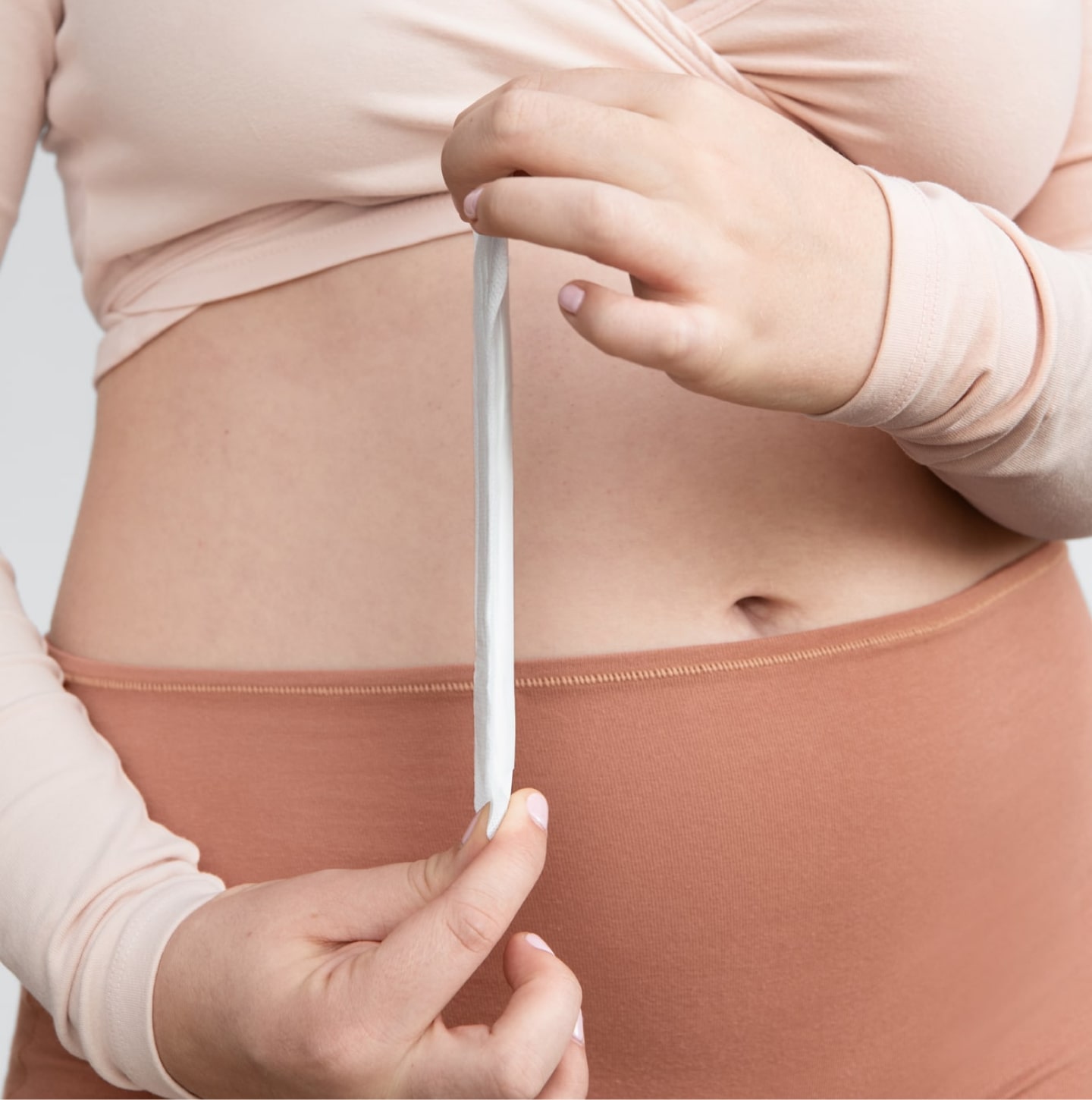 Incontinence with Confidence.
100% Organic Cotton Topsheet

Hypoallergenic and dermatologically tested. Made without harsh chemicals.



Traps Leaks

Redesigned to absorb leaks 2.5x faster to keep you feeling dry and comfortable.



Soft and Flexible

Our powerful bladder liners absorb 16x their weight to keep you feeling drier, longer. So thin and soft you'll forget you're wearing it.



Locks Odors Away

Absorbent layers keep smells at bay without synthetic fragrances.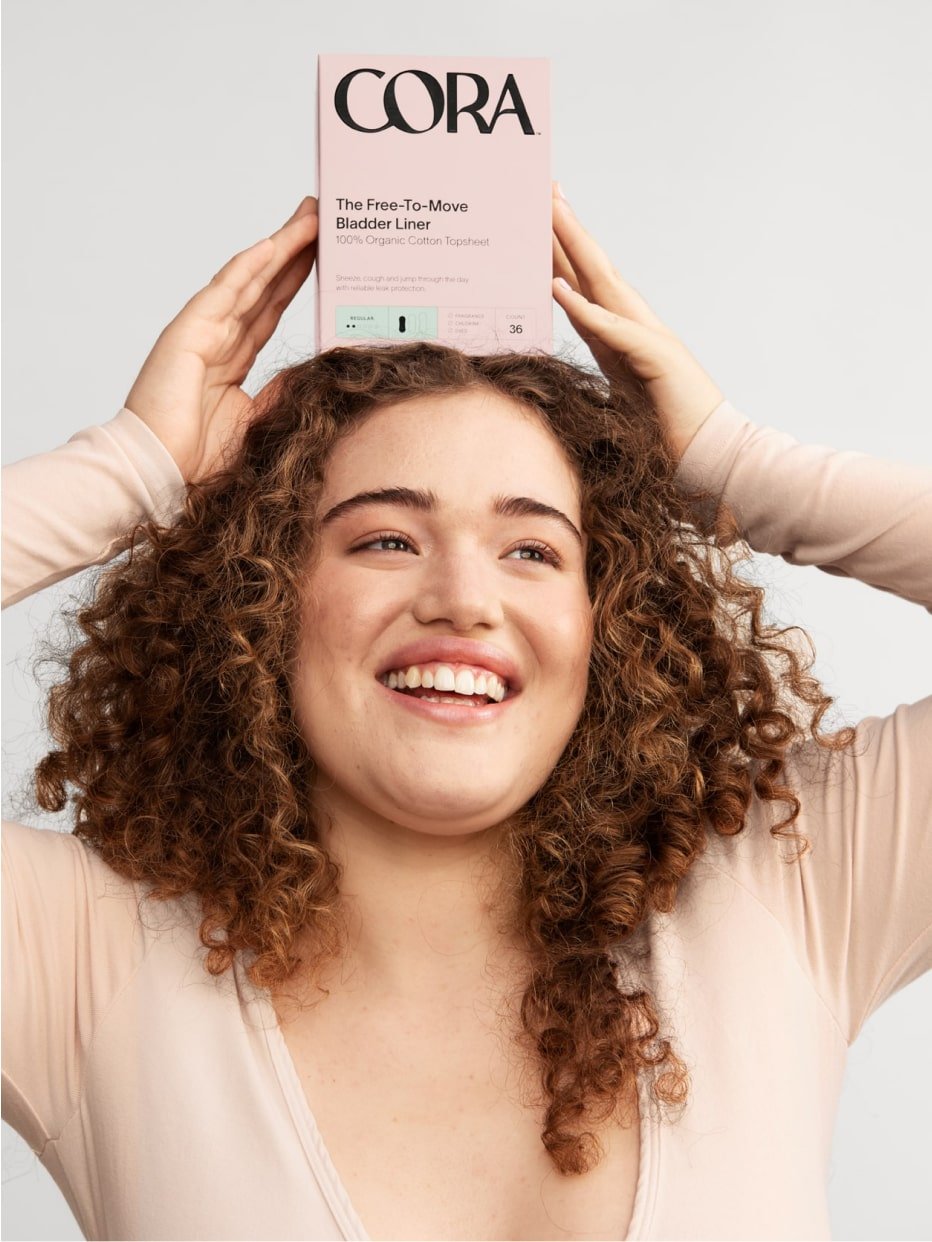 Made Without
Chlorine
Dioxins
Dyes
Fragrance
Latex
Chloroform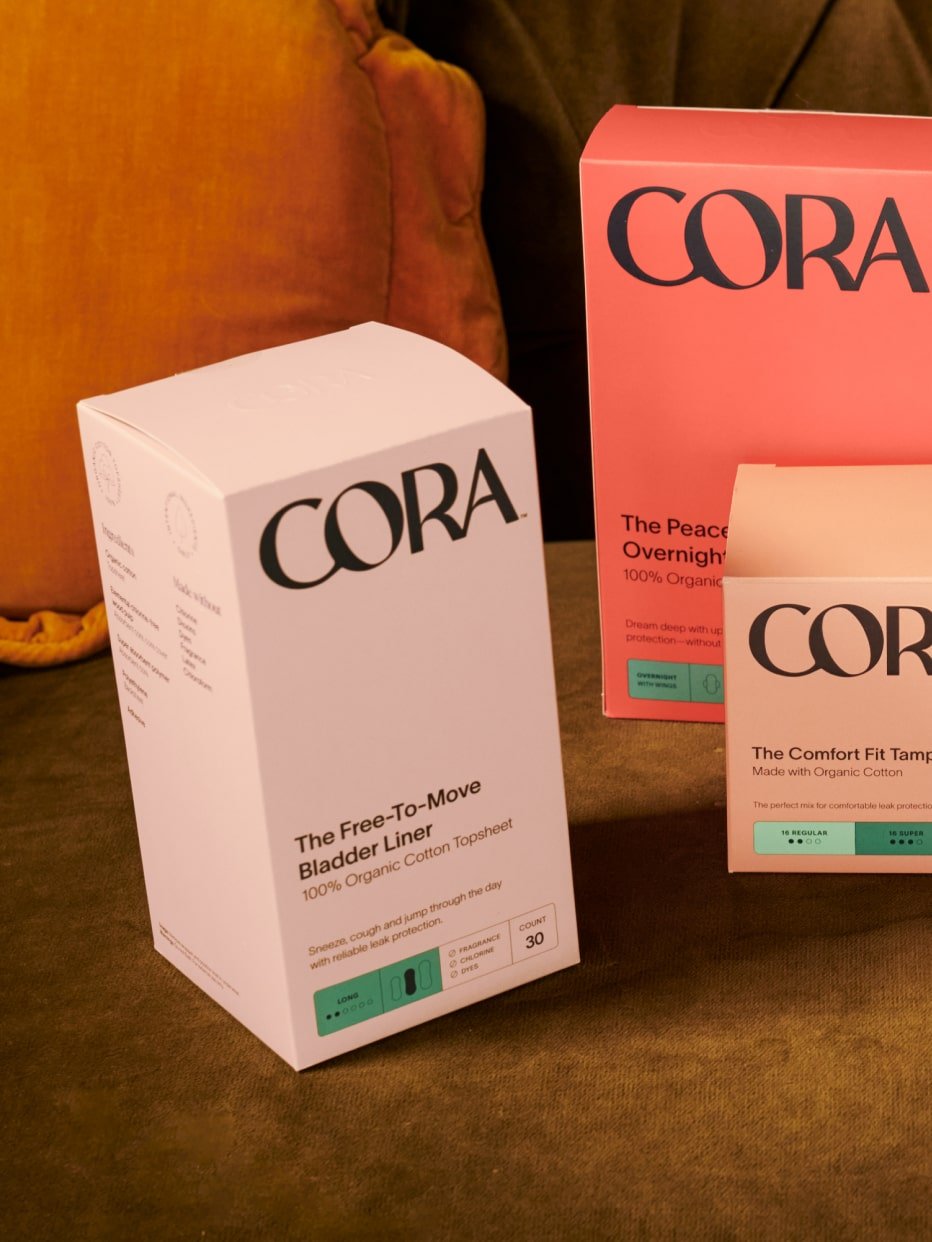 Intentional Ingredients Only
Organic cotton (Topsheet)
Elemental chlorine-free wood pulp (Absorbent core, core cover)
Super absorbent polymer (Absorbent core)
Polyethylene (Backsheet)
Adhesive
Hear From Our Cora Community
I really like the Cora bladder liner because of their unique shape, with the most absorbent part where you need it.
Holly B.
Cora liners work perfectly. They're comfortable and don't show and manage leaks exactly as designed with no odor.
Kirsten L.
I am at the stage of my life where I leak. Cora has made my life simpler. No worrying about discomfort, bulging, or slipping pads.
Laurette G.
Frequently Asked Questions
Which bladder liner absorbency should I choose?
Our Regular and Long liners were designed for light bladder leaks, while our Extra Long liners offer added coverage for moderate leaks.
Choosing the length of your liner depends on your lifestyle and daily activities. For example, if you're going for a run you may want to choose a Long or Extra Long liner. While at work or kicking back with a movie a Regular liner may be the right choice.
How are the new bladder liners different from Cora's existing bladder liners?
We're constantly improving our products so they work better for you. Our new liners have an improved shape and structure for better performance. They absorb leaks 2.5x faster and absorb more liquid than our previous liners—keeping you even more dry and comfortable. While our design has evolved, we made sure to keep the hypoallergenic and dermatologically tested organic cotton topsheet. As always, these liners are made without chlorine, fragrances, or dyes.
How are Cora bladder liners different from other bladder pads on the market?
Our bladder liners are made with a 100% organic cotton topsheet that is hypoallergenic, dermatologically tested, and made without harsh chemicals. The topsheet quickly traps the liquid into the absorbent core to keep you dry and comfortable throughout the day. Our liners are also made without chlorine, fragrance, or dyes–because what you put on your body matters.
Cora's got you covered, however you flow.
Check out our other goods.
We've Made Some Upgrades
Now absorbs 16x its weight and absorbs 2.5x faster than our previous liners, to keep you feeling dry and comfortable.
Redesigned shape fits most underwear styles and moves with you for a barely there feeling.
We've phased out some pack sizes to provide you the best price. We've kept our pricing per liner the same, and in some cases, you'll even save.
A Fit For Every Body
REGULAR LINER
For light to moderate leaks.


LONG LINER
For light to moderate leaks, with additional coverage.


EXTRA LONG LINER
For moderate leaks, with the most coverage.
Read more at Blood & Milk
Blood & Milk is a community and resource for the awakening woman.