Applicator Tampon Kit
Period Storage + Applicator Tampons
Get our popular tampon mix pack (5 Light + 6 Regular + 5 Super) paired with our Period Storage system for a stylish way to store your tampons of all sizes. 10% off when bought as a bundle.
Our Giving
With each Cora purchase, we provide pads and health education to girls around the world who need them.
Hear From Our Cora Community
I love Cora's products! I've been using their tampons and pads for over a year now. They are conveniently delivered and are comfortable and easy to use. I like knowing they are not full of chemicals and are more sustainable!
Kelly P.
These are the first organic tampons I've used, and they have changed my periods. The tampons themselves are durable and absorbent. I haven't had any breakage in the string, or debris left behind. Overall, I think these are great and totally recommend them.
Kristy F.
I just can't say enough. I love the fact that I know what I am putting into my body plus the fact everything is so beautiful. And best of all I am giving back to girls all at the same time.
Tiffany T.
We Know You'll Also Love
Your body changes from day to day. And so do the ways to care for it.
Tampon Kit
Keep your tampons stylishly stored and accessible at a moment's notice.
Applicator Tampons
This pack includes Light, Regular, and Super tampons, offering a range of absorbency. Recently redesigned to be even more comfortable and effective, these tampons are made from a 100% certified organic cotton core.
Made with 100% certified organic cotton core and made without pesticides, dioxins, chlorine, and fragrance.
The BPA-free plastic applicator is paired with a redesigned cotton tampon that provides a smoother insertion (and removal) for a more comfortable wear.
W-shape helps tampon expand widthwise to fit your body for total comfort and leak protection.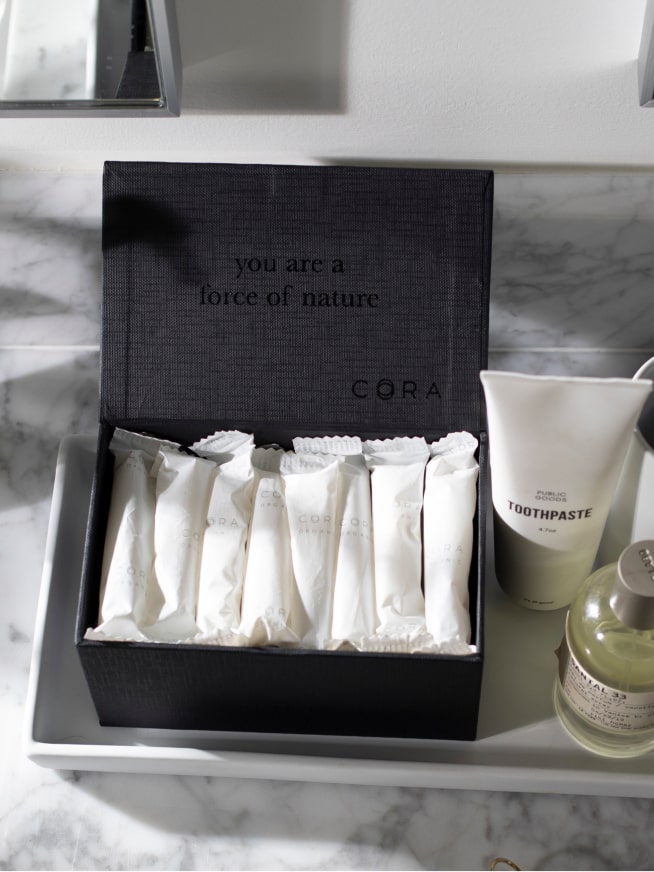 Storage Box & Clutch
Period Care Storage kits are a stylish and convenient way to store your period products. This chic vegan clutch and black box level up your bathroom organization.