The Cup + Underwear Bundle
Cora Cup, Cup Clutch, Period Underwear, Mesh Laundry Bag
The perfect reusable duo. Includes a cup and a pair of period underwear. Customize your cup size, underwear style, and underwear size. Can be used on their own, or together on your heaviest days. Save 10% when you bundle.
Period Care Access for All
With every Cora purchase you make, we provide period products and body literacy resources to people who might otherwise go without–because every body deserves comfort.
Hear From Our Cora Community
Surprised by how absorbent the period underwear is. Pairs perfectly with the menstrual cup to combat heavy flow days. Comfortable fit. Very glad I ordered the 5 pack.
Stephanie P.
Absolutely love my Cora! I use menstrual cups but have been wanting to stop using liners and so been wanting to try period panties. I'm so happy I went with Cora!
Vivian P.
I can run and lift with more comfort and the cup is eco-friendly/sustainable. Overall, less mess and less stress!
Abigail P.
Cora's got you covered, however you flow.
Check out our other goods.
The Easy-Does-It Cup
There's a reason why our cup was rated "Best Menstrual Cup for Beginners" by Wirecutter. The intuitive design is first-timer friendly, and the ultra-soft silicone is a comfortable fit for every body.
Size Guide
Size 1 is best for those who have not given birth and do not experience bladder leaks.
Additionally, it is best for users with a light to medium flow and is ideal for first-time users.
Size 2 is for those who have given birth and/or experience light bladder leaks.
Additionally, it is best for users with a medium to heavy flow.
Every Cora Cup comes with a how-to guide.
Perfect Fit Guarantee: If for any reason you are not completely delighted by your cup or the fit, you can reach out to us and we'll make it right.
Clean + Store
For best results, wash your cup with pH-balanced Cora Cup Cleanse or pH-balanced soap to avoid irritation. If you don't have a pH-balanced soap, you can use mild, fragrance-free soap instead. Check to be sure the air holes are clean and open.
Store your cup in a cotton carry bag or storage case.
Keep in a cool dry place.
Cup Clutch
A sleek and stylish way to store your Cora Cup when not in use.
Made from vegan leather.
Discreet and convenient for taking your cup on the go or storing it in your bathroom.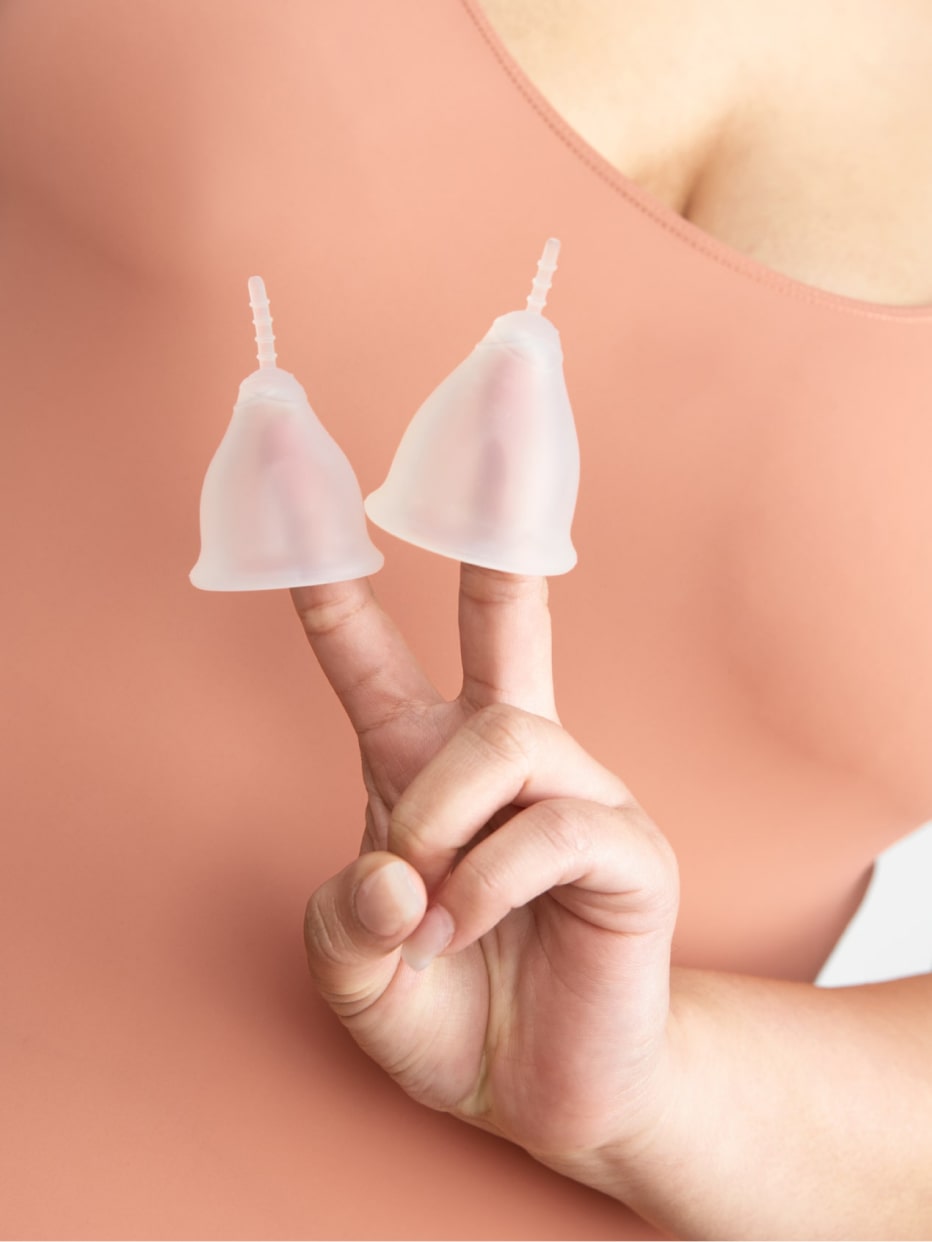 The Free-To-Flow Period Underwear
Our Free-To-Flow Period Underwear comes in two styles depending on when you want to wear them.
Choose Your Underwear Style
Bikini: Soft, reusable period underwear that hold up to 3 regular tampons worth of liquid–cycle after cycle. Made without toxic chemicals, PFAS, or azo dyes.
Sleep Short: Sleep through a storm—or a flood. Our full-coverage sleep shorts offer up to 10 hours of leak protection (6 regular tampons worth of blood) with no digging, bunching, or sticky pad winging. Made without toxic chemicals, PFAS, or azo dyes.
Size Guide
We recommend basing your size on your hip measurements, which should be taken across the widest part of your hips/butt. If you're unsure between two sizes, we recommend sizing up, or contact us here if you need help.
| | | | |
| --- | --- | --- | --- |
| Size | Waist | Hip | US Size |
| XS | 24" - 25" | 35" - 36" | 0-2 |
| S | 26" - 27" | 37" - 38" | 2-4 |
| M | 28" - 29" | 39" - 39.5" | 6-8 |
| L | 30" - 31.5" | 41" - 42.5" | 10-12 |
| XL | 32" - 33.5" | 43" - 44.5" | 14-16 |
| XXL | 34" - 36" | 45" - 47" | 18-20 |
How to wash
Follow these steps to help your period underwear last without sacrificing comfort or absorbency.
Rinse in cold water
Machine wash on delicate cycle using your mesh laundry bag
Line dry or lay flat