The Restorative Vulva Balm
This hydrating moisturizer relieves vulva dryness and irritation caused by hormone fluctuation, menopause, use of pads, and other factors. Made with non-irritating, naturally derived ingredients.
Ordering Made Easy
Clean period and body care, delivered to your door.
One-Time Buy
Choose what you need and check out. No subscription required.
Subscribe & Save
Sign up for a subscription and get your goods delivered at a discount. Cancel anytime.
Make Your Impact
With every purchase you make, Cora provides period products and body literacy resources to people who might otherwise go without.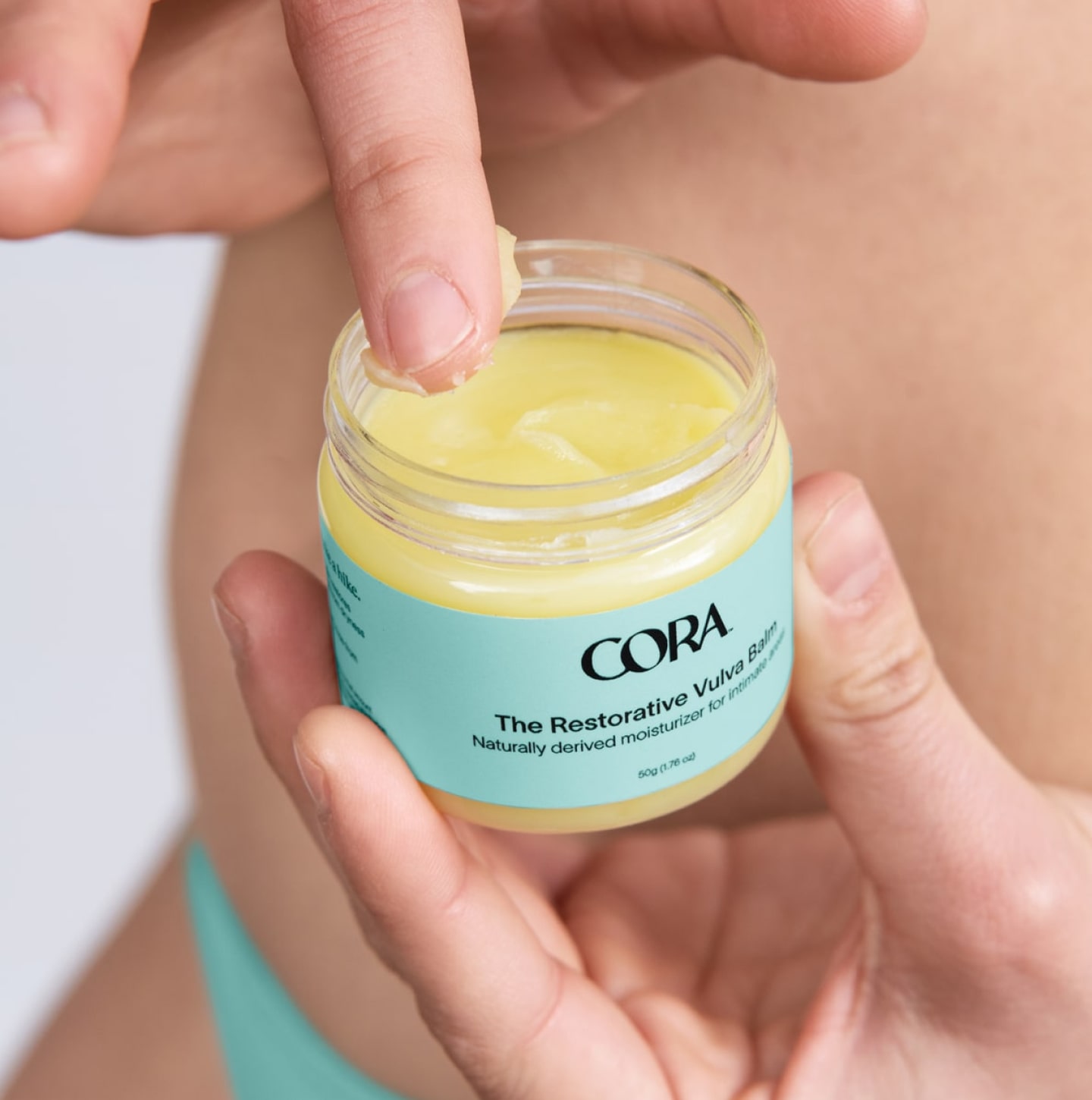 Designed For Intimate Areas
SILKY SMOOTH

Soothes and protects your vulva from daily life irritations such as chafing, exercise, shaving or use of pads.


MOISTURE BOOSTING

Provides hydrating relief to dry and itchy vulva skin during hormone fluctuations such as menopause, breastfeeding, or your period.


PLANT-DERIVED FORMULA

Made with hydrating olive oil, sunflower oil, and a nutrient-rich blend of honey, royal jelly, and ethically sourced propolis. Contains a light scent and free from estrogen and other hormones. Non-irritating, gynecologist-tested formula.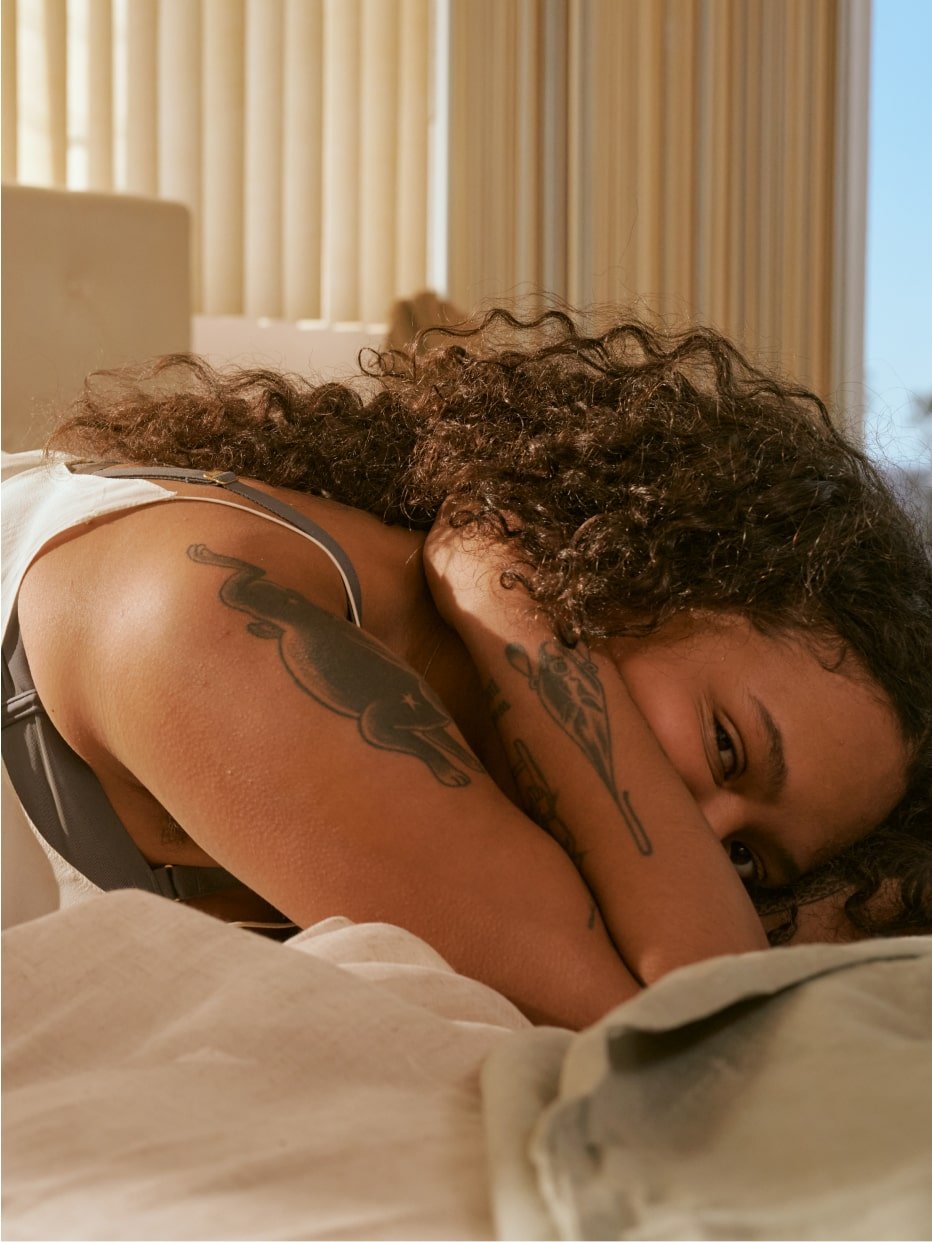 Made Without
Dyes
Synthetic preservatives
Phthalates
Parabens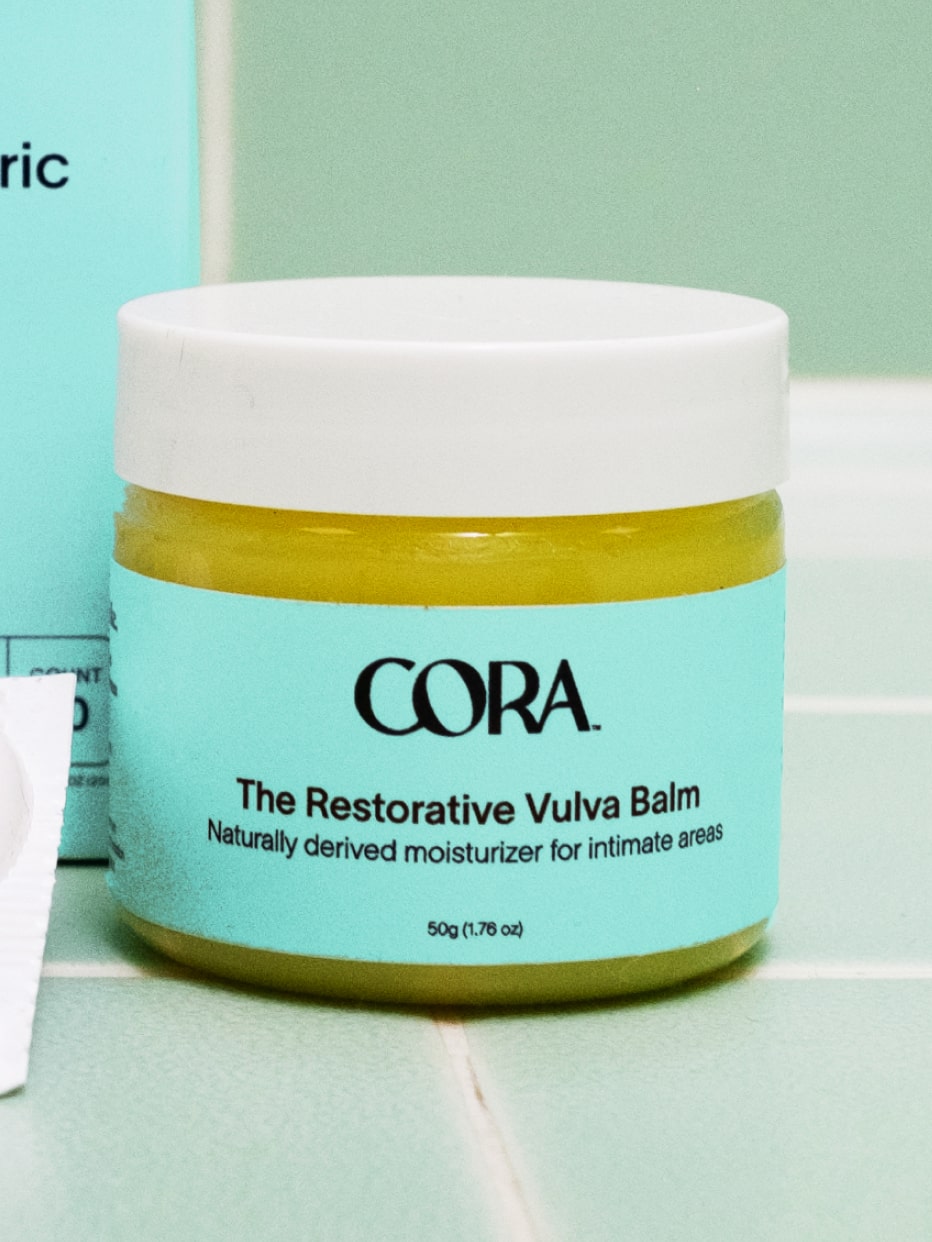 Ingredients
Olea Europaea (Olive) Fruit Oil, Helianthus Annuus (Sunflower) Seed Oil, Beeswax*, Honey*, Royal Jelly Extract*, Royal Jelly Powder*, Pollen Extract*, Propolis Extract*, Rosmarinus Officinalis (Rosemary) Leaf Oil
*Sustainably and ethically sourced from bees
Cruelty-free and Leaping Bunny Certified.
This formula is made with natural ingredients, which can affect color.
Hear From Our Cora Community
Love this product! Feels so good on my dry skin, i use it down to my inner thighs and it feels heavenly. Not heavily scented at all, feels like a good, clean balm.
Nicole M.
I love this balm! A little goes a long way! I find that it is best to use at night after a shower. If I use it during the day it is hard for my skin to absorb it due to the intense heat and humidity. A must try for everyone!
Courtney F.
I thought irritation and chaffing from pads was just something I had to deal with without relief until I this product came along. Just a little dab of the balm soothes the pain and irritation caused from pads rubbing. 10/10 and would definitely recommend to all my friends!!
Holly
Frequently Asked Questions
How do I apply Vulva Balm?
First things first. Always wash your hands before using any product on your genitals. Don't use this product right before or during intercourse. Start with a pea-sized dab of balm. Use your fingertips to apply the balm to the vestibule or any area of your vulva. Wash your hands before and after use.
Is there fragrance?
There is a slight fragrance from our natural ingredients; olive and rosemary oil. No additional fragrances were added.
I'm allergic to bees—can I use this product?
Restorative Vulva Balm does contain beeswax; however, bee sting allergies do not typically react to honey products as they are caused by bee venom which has a different chemical makeup. It might be best to test first with a small dab of the balm to check your body's reaction.
Cora's got you covered, however you flow.
Check out our other goods.
Dryness Doesn't Stand A Chance
This rich and creamy moisturizer is made with a light fragrance and made without dyes, synthetic preservatives, phthalates or parabens. Plant-derived formula:
Propolis
Known for anti-microbial and anti-inflammatory properties to help soothe skin.
Olive & Sunflower Seed Oil
Packed with vitamins, healthy fats, and antioxidants, these natural oils help lock in skin moisture. Sunflower Seed Oil is also rich in linoleic acid, an essential fatty acid that has been shown in studies to help maintain skin's natural moisture barrier.
Royal Jelly
Nutrient-rich and known for anti-microbial properties, Royal Jelly has been shown in some studies to help relieve symptoms of post-menopausal vulva dryness.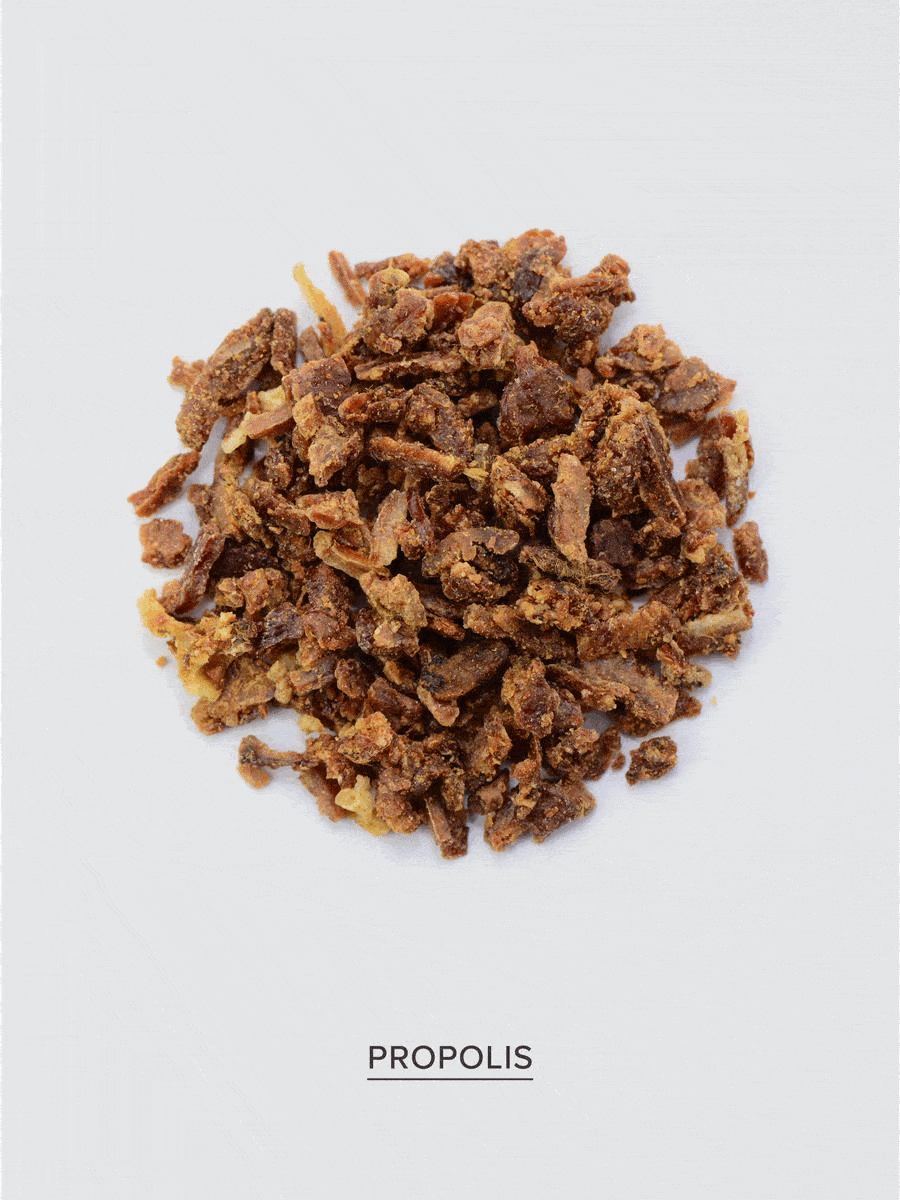 Vulva Balm + Body Cloths
Bundle with our Body Cloths to stay cleansed and fresh.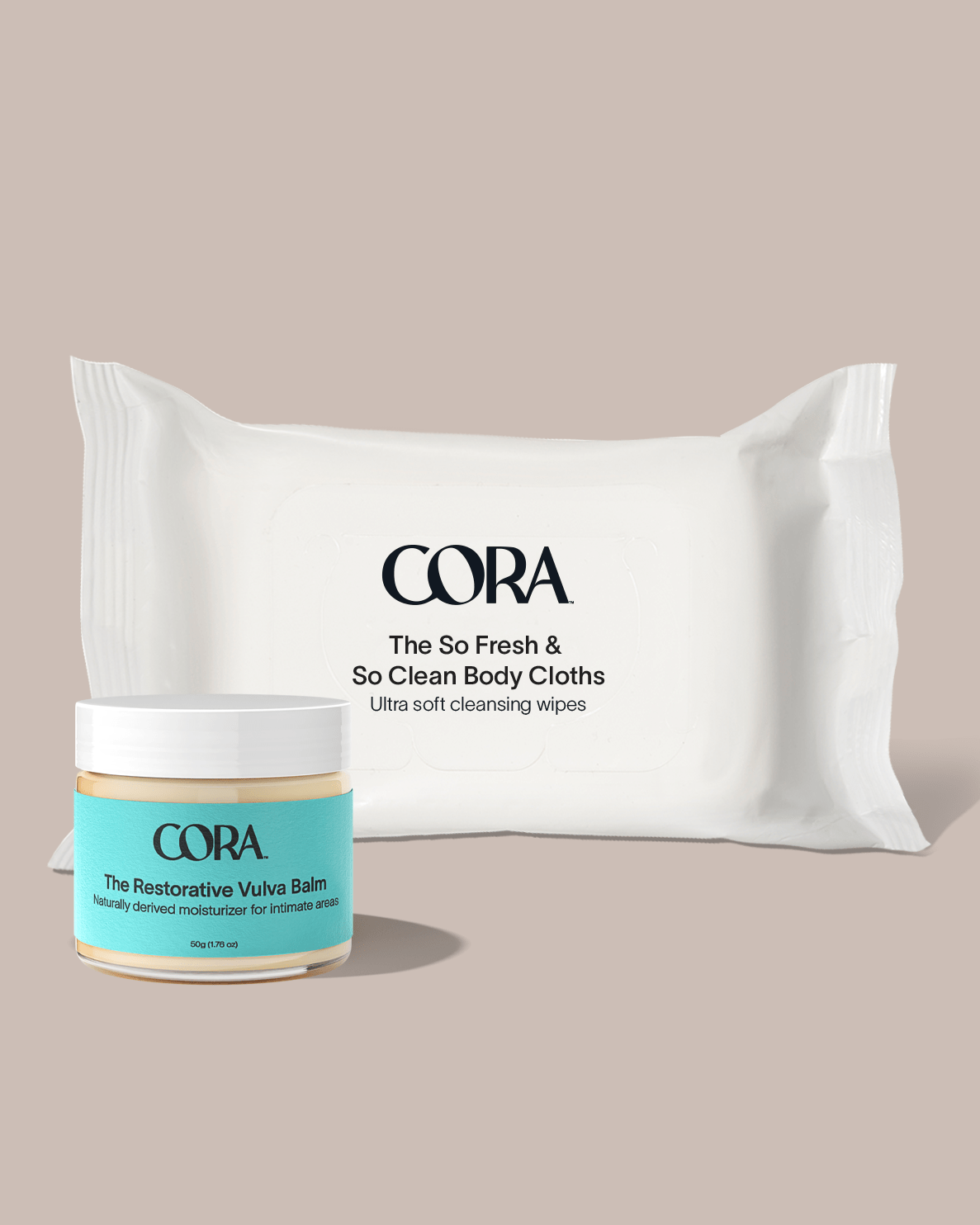 Vulva Balm + One Wash
Try with the One Wash to stay balanced and cleansed.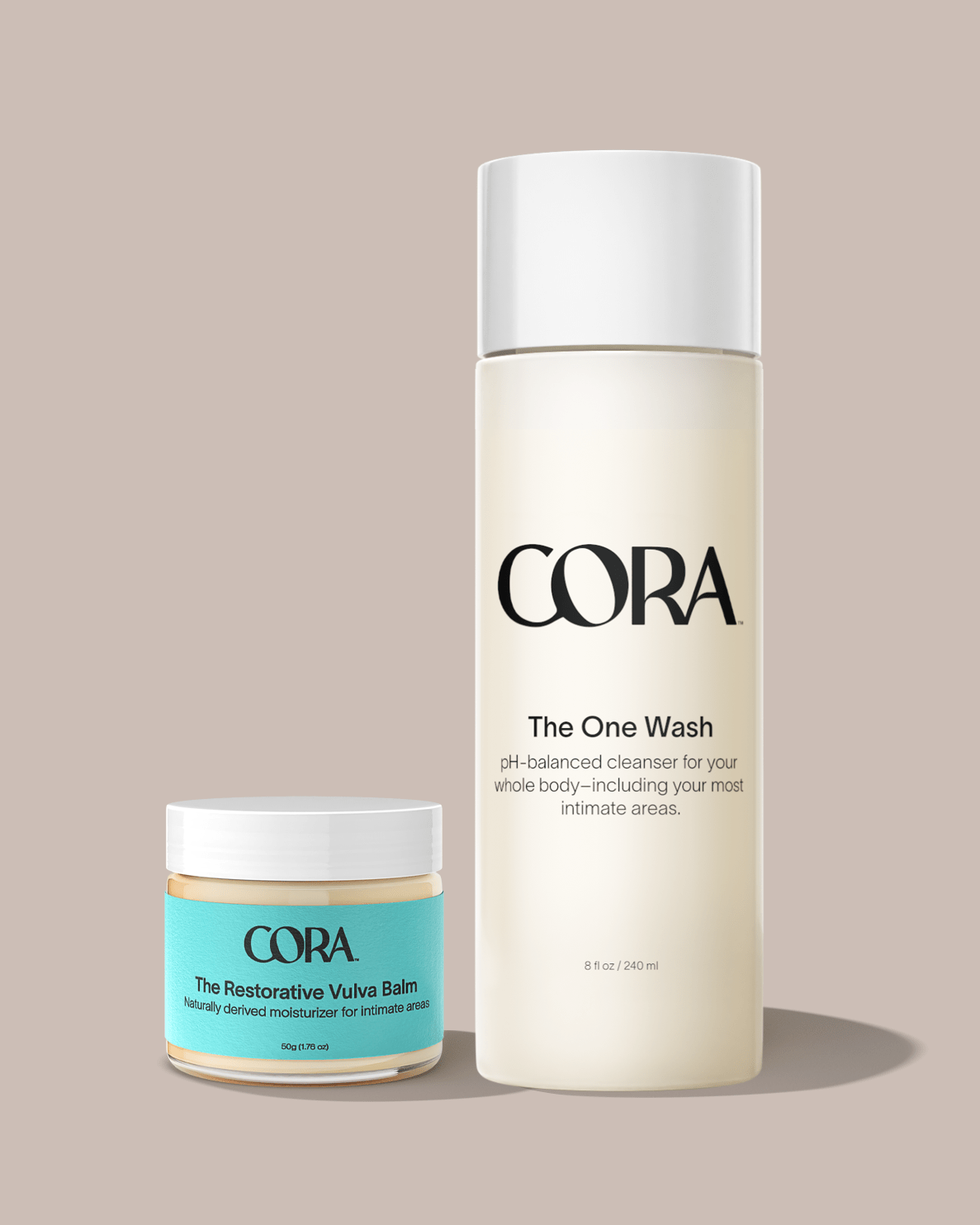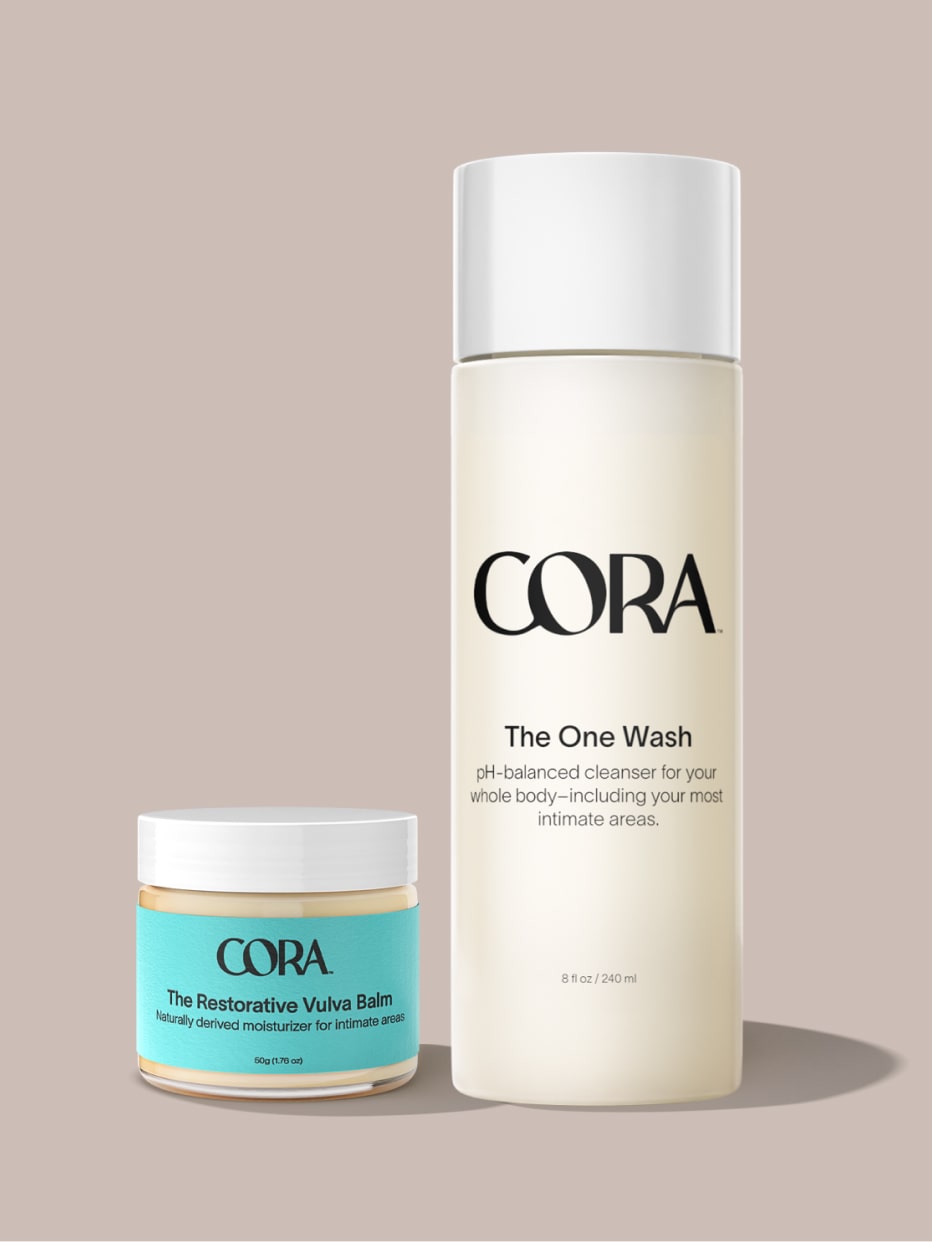 How & When To Use
A little goes a long way–with clean and dry fingers, apply a pea-sized amount daily for smooth, hydrated skin. Massage to melt the balm into skin. Discontinue if irritation occurs.
Use anytime you need a soothing boost of moisture:
After shaving or hair removal
Exercise
Sex
During hormonal fluctuations from your period, breastfeeding, or menopause