The Peace-of-Mind Pad Bundle
Period Storage + Period Pads
Period care, accessorized. Includes a period pad multipack (14 Overnight + 16 Regular) plus a pad storage box and clutch. Save 10% when you bundle.
Period Care Access for All
With every Cora purchase you make, we provide period products and body literacy resources to people who might otherwise go without–because every body deserves comfort.
Hear From Our Cora Community
I have been looking for a pad that doesn't get hot and make me sweat down there. These Cora pads are so comfortable, absorb well for me, and don't irritate my skin.
Katie
So far I've got two subscriptions of my regular pads and they work great for my light to medium flows. For my heavier days I need a thicker pad. I love Cora and their mission and highly recommend their products.
Soleina R.
I would recommend Cora pads over any other brand. They are thin, they don't smell bad, they are absorbent, I can wear them with leggings without a "diaper butt" effect that you get from other bulky pads. They cover the underwear perfectly, and no irritation from the wings.
Marisa F.
Cora's got you covered, however you flow.
Check out our other goods.
The Peace-of-Mind Pad Bundle
Period care, accessorized.
Period Pads (Regular + Overnight)
This bundle includes Regular and Overnight pads because every body flows differently.
Organic Cotton Topsheet
Hypoallergenic and dermatologist tested. Made without harsh chemicals.
Ultra-Absorbent
Rapid-absorbing channels quickly lock in liquid for up to 8 hours.
Moves with You
Stays put while staying soft–so you can roll with your flow.
Side Barriers
Side barriers channel liquid into the core of the pad, providing ultra-reliable leak protection and peace-of-mind.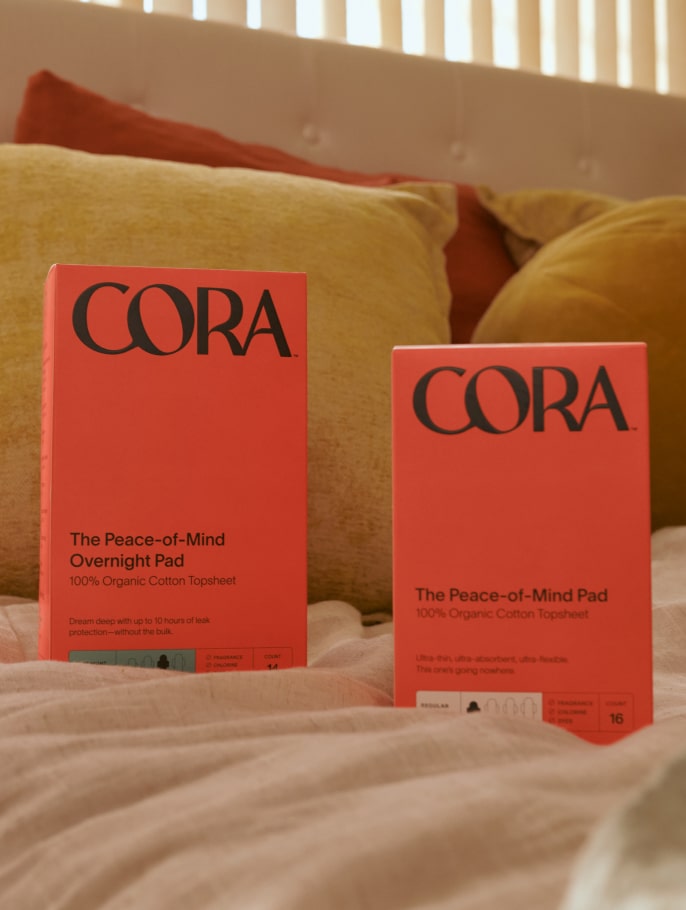 Storage Box & Clutch
Period Care Storage kits are a stylish and convenient way to store your period products. Delivered straight to your door, your chic vegan clutch and black box level up your bathroom organization.