Period Balm
Made with essential oils to ease period tension and discomfort.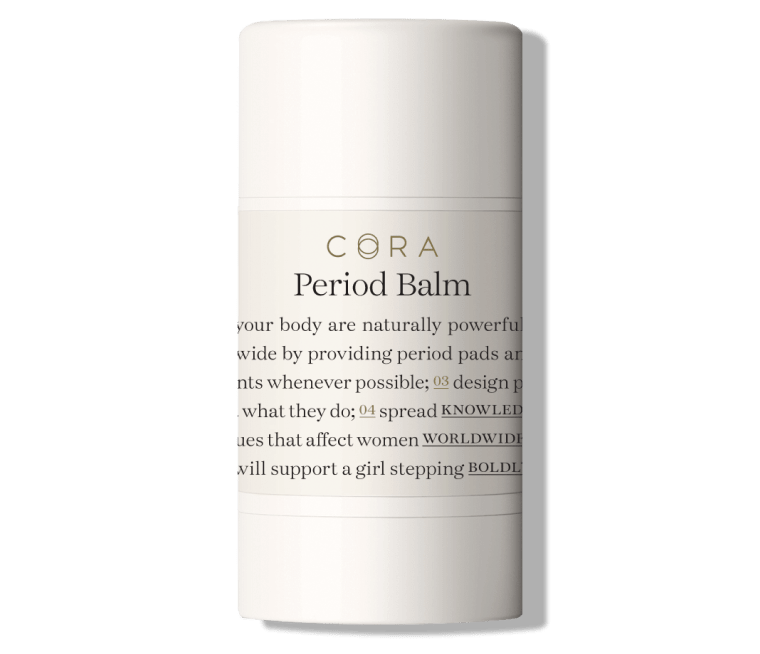 CLINICALLY STUDIED

Made from a powerful blend of pure lavender, clary sage and marjoram essential oils shown to ease period discomfort.


SOOTHING WARMTH

Naturally derived extracts create a gentle warmth that builds over time to ease tension.


GOOD FOR YOUR BODY

Dermatologist-tested ingredients that absorb quickly and leave no sticky residue.
The Naked Truth
Put simply: there is no requirement for feminine care companies to tell you what their products are made of. We think that's a big problem, so we're taking the lead and baring it all. Our hand selected ingredients are printed on every box.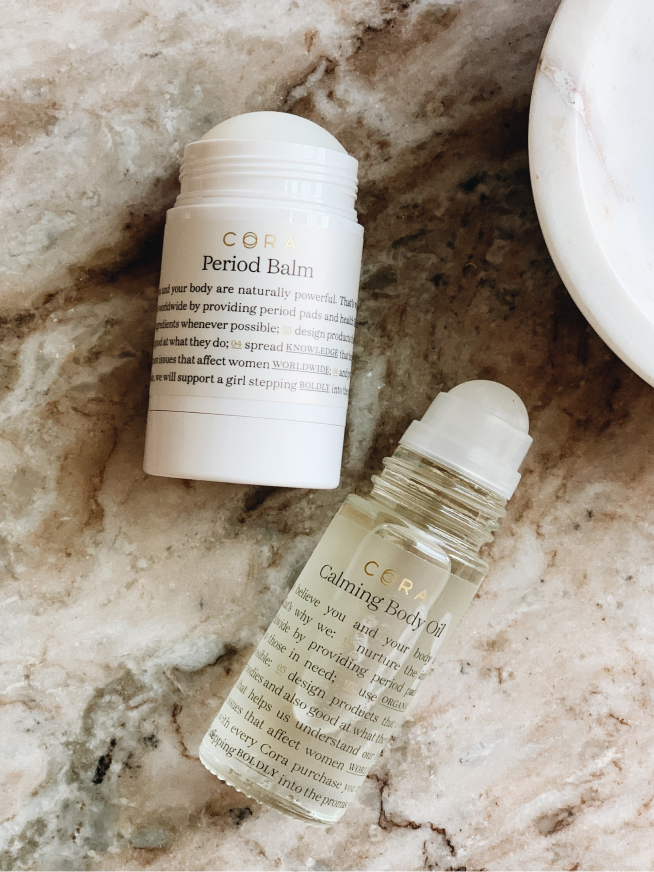 Selected With Care
Helianthus Annuus (Sunflower) Seed Oil, Cocos Nucifera (Coconut) Oil*, Caprylic/Capric Triglyceride, Butyrospermum Parkii (Shea Butter)*, Theobroma Cacao (Cocoa) Seed Butter*, Tocopherols (Mixed), Persea Gratissima (Avocado) Oil, Olea Europaea (Olive) Fruit Oil, Beeswax, Zingiber Officinale (Ginger Root) Oil, Camphor, Menthol, Vanillyl Butyl Ether, Magnesium Chloride, Lavandula Angustifolia (Lavender) Oil, Salvia Sclarea (Clary) Oil, Orgianum Majorana (Sweet Marjoram) Leaf Oil.
*Certified Organic
Hear From Our Cora Community
Great new product. Smells great, rolls on easy and helped my cramps. Works great paired with the heat relief pads.
Brooke S.
The texture and smell are amazing for me. Also I love how I can use it anytime and anywhere.
Shirley W.
I love this roll-on balm! I also use it for muscle aches post-workout. Great scent!
Jen K.
Frequently Asked Questions
How long does it take for the Period Balm to work?
Results may vary, but typically you should feel the balm warming the skin immediately. If the warming sensation is taking longer to present, apply the product after the shower or bath when the skin is slightly damp.
How warm does the balm get?
Our Period Balm doesn't use thermal heat, so it is not measured via a specific temperature. The warming sensation depends on your skin's sensitivity, but most will feel a moderate level of warmth on the skin that builds over time. If your skin feels hot, do not apply more of the balm.
Will this stain my clothes?
We recommend rubbing it into the skin thoroughly to avoid staining clothes. You can also do a "patch test" to assess how much you need to rub the Period Balm into the skin to prevent residue.
Should I use this before my period starts?
Yes! Applying Period Balm daily ahead of your period can be helpful in easing the tension you may get at the start of your period.
We Know You'll Also Love
Your body changes from day to day. And so do the ways to care for it.
How To Use Your Period Balm
Use the mess-free roller stick to apply to your lower abdomen two to three times daily. For best results we recommend using the product daily.
The balm should only be used externally, and if you have sensitive skin, test the balm on a small area first. If skin irritation occurs you should stop using it immediately.